Roasted Cauliflower with Garlic, Onion, and Oregano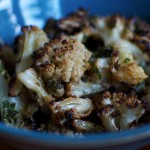 This recipe has become my go-to veggie dish whenever I have 45 minutes to be cooking. So if you're doing beer can chicken or any type of roast or slow cooked recipe, it's perfect. Everything gets super rich, browned, and carmelized. Delicious!
Instructions
Preheat your oven to 425°.
Cut your cauliflower into one-inch strips. The florets on the edges will fall apart, but you should have a couple "steak"-like cuts from toward the center of the cauliflower. Arrange all the cauliflower cut-side down on a rimmed cookie sheet so they form an even layer. Cut the onion lengthwise into strips. Separate the strips and sprinkle them over the cauliflower. Take the whole garlic cloves and drop them on the cauliflower. Drizzle olive oil over all the veggies. Sprinkle your herbs evenly over the top. Season with salt and pepper. Now toss or stir with a spatula until all the veggies are well-coated with olive oil and seasonings. After tossing/stirring, make sure they're arranged into a flat layer again.
Put into the oven and roast for 15 minutes. Remove from the oven and stir again, flipping over the cauliflower pieces (the browning and caramelization happens on the side of the cauliflower that's touching the cookie sheet, not the side that's up, so you want to make sure that both sides of the cauliflower touch the cookie sheet). Put back in the oven and roast for another 15 minutes. Remove from the oven and stir/flip again. Now it's up to you: if you like things really caramelized, you can put the cauliflower in for another 10-15 minutes. If you prefer less caramelized, only do about 5 minutes. And if it's looking good to you as-is, you're done 🙂
Serve and enjoy!
Photo by ejchang
Print