Sunny Side Eggs with Bacon, Mushroom, Beans, & Asparagus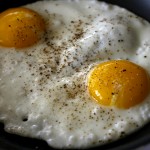 This is a recipe inspired by the folks at SeriousEats.com (my favorite food website!). It's another easy, tasty way to get your protein and veggies in the morning!
Prep Time : 10 minutes
Cook Time : 25 minutes
Yield :

2 servings
Instructions
Cook bacon in a skillet over medium-high heat until crispy. Transfer to a paper plate covered with paper towels. Pour off half the grease in the pan into a bowl and reserve for later. Add mushrooms to the skillet and cook until brown, about 10 minutes. Add asparagus and cook until just done, about 5 minutes. Add thyme and cook for about 30 seconds. Add beans and cook until heated through, about 3 minutes. Pour into a bowl. Crumble bacon and add it to the bean mixture. Add lemon juice and stir until mixed. Add salt and pepper until the balance tastes right to you.
Wipe out the skillet or start with a new one (just make sure the skillet is hot but not smokin' hot). Add about 1 tbs of the bacon grease back to the pan and swirl so it covers the skillet. Add the eggs, being careful not to break the yolks. Add salt and pepper to eggs. Cook until the whites are set.
Add bean mixture to plates (you'll probably have extra - that's OK: it's good as leftovers too!). Top with eggs, then sprinkle the scallions on top. Serve immediately!
Photo by Miss Messie.
Print