Turkey Steaks with Egg & Tomatoes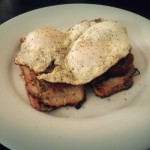 This a really easy way to get your protein in the morning and nice when you need a break from legumes. It has a hearty flavor, but the tomato and herbs give it an Italian nuance which is very pleasant! Another nice bonus is if you buy a whole turkey breast, you'll have plenty of meat for this dish as well as other slow-carb friendly meals.
Instructions
Heat butter in a small saucepan over medium heat. Add turkey breast slices and cook until browned, about 2 minutes per side. Remove from heat and rub with the garlic (this will add just a hint of garlic). Cover turkey steaks with tomato slices. Sprinkle herbs over tomato and turkey steaks and add salt and pepper to taste.
Add 2 eggs to skillet. Salt and pepper them to taste. Cook until the bottom of the white is set (the top of the egg white will not be fully cooked but it should look about halfway cooked through). Add about a teaspoon of water to the skillet and immediately cover with a lid. Steam cook for about 30 seconds to a minute and remove - the egg should look just cooked. Remove eggs and put them on top of the turkey steaks. Eat while warm!
In the same saucepan,
Print