Slow Cooker Beef and Broccoli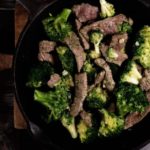 Beef and broccoli is a popular take-out dish, yet it's often served with a heap of white rice and packed with sodium. This is a low sodium, slow carb recipe prepared in the slow cooker, without the sugar and with only half of the sodium. Even though it's prepared in a slow cooker, it's still aesthetically pleasing, too. You'll sear the beef in a pan to give it that caramelized brown color. In addition, you'll cook the broccoli before mixing it in with the beef, so that the broccoli remains crisp and bright green. With this delicious slow carb recipe, you'll learn that beef and broccoli doesn't need rice to be mouthwatering.
Instructions
Heat olive oil in a large skillet on medium heat. Lightly sear stew meat, until all sides are brown (doesn't have to be cooked through).
In a bowl, whisk together soy sauce, sesame oil, red pepper flakes, and garlic.
Add beef, beef broth or consomme, and sauce to the slow cooker. Make sure everything is mixed well. If the beef is not covered in liquid, add just enough beef broth to ensure that all the beef is covered.
Cook on high for 2-3 hours, or low for 4-5 hours.
After beef is ready,, steam broccoli in the microwave: put broccoli florets in a microwave-safe bowl with 1 inche of cold water. Cover the bowl with a plate or microwave-safe plastic wrap and microwave for 3-4 minutes. Check to see if the broccoli is tender; if not, continue to microwave in 1-minute increments. (Keep in mind that you can also steam broccoli in a steamer basket, if you have one. Just make sure you don't overcook it -- the broccoli should still have a little crispness to it.)
Finally, stir steamed broccoli in with the beef, and serve hot.
Print